Blog details
We are making native app development being the
base of mobile strategy today.
Let's Talk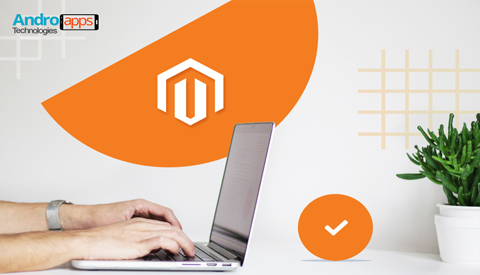 Magento | Magento Developer
Exploring the Benefits of Developing and Designing Magento Online Store
One of the fastest growing investments has been putting up an online store in the recent past. A lot of items can be sold online, including clothing, computers, gadgets, mobile phones, books, jewellery and a lot more. In such a scenario, the need for e-commerce software applications arises to support the need for online businesses.
Today, one of the most versatile e-commerce platforms is Magento. By setting up a Magento online store, you can have control over every department of your online business, from promotions to merchandising and eventually can have smooth Magento Development.
E-commerce software is the backbone of any online business venture. It includes features of developing, marketing, selling, delivering and effecting payment for products and services. In 2008, Magento was an open-source e-commerce web application built by Varien on the Zend Framework. It has been developed for online retailers and traders to create e-commerce sites, organize their products and services and run and maintain their online businesses.
What does Magento's online store have on offer?
Magento is a very feature-rich e-commerce platform. It comes with special tools for marketing promotions, site management, product browsing, multiple address shipping, and others that can set your online business apart. All these enable top Magento developers to deliver an exceptional piece of work.
Website Management: This feature allows Magento developers in India and other countries as well to control multiple websites and Magento online store from a single administration panel. You can share as much or as little information as you wish to share.
Promotion and Marketing Tools
The marketing tools of Magento enable the owners of online businesses to create an efficient variety of promotions for increasing conversion rates.
This tool allows you to manage the dynamic catalogue through an administrative interface. This includes different options for displaying products and items to be sold.
This tool enables the visibility of your Magento online store performance. It also enables actionable changes as a reaction to your customers' needs.
With the flexibility of Magento, you can tailor it to your shipping method. This tool shows you the real-time rates of carriers. There is also support for account-specific rates or flat rates for your customers
This tool allows viewing orders, creating receipts or invoices and shipment records, and credit memos for the customers.
Magento's online store is integrated with various major payment gateways out of the box and alternative payment methods from Google, PayPal, and Amazon.
Why is Magento the Best Option to Design an Online Store:
Apart from being a feature-rich platform, Magento offers several benefits, including:
Being an open-source design platform, it is quite light in the pockets.
Source codes are open to the public. Therefore, it is transparent
It is considered as a global platform since it is extensively and widely used all over the world
It is highly scalable
It is very customizable and flexible. Furthermore, it can tailor the design according to the needs, requirements, and even budget.
Excellent Integration
Magento has an extendable and sophisticated API. API is how programmers integrate other applications with Magento. Magento's API allows it to be connected with several other web and standalone applications.
This gives your Magento online store great flexibility for growing your online business. It can be tightly integrated with other inventory/customer/order systems and made to work in a seamless manner from the very outset; Magento has been well-designed.
There is a clear distinction between third party or community code and core code. This means that other modules or extensions can be easily installed without the fear of any impact on Magento upgrades in future.
Magento on the go
Magento facilitates online companies to reach their customers at any place and anytime. Its mobile source code is presently available for Android, iPhone and iPad. Customers can use the mobile application to make purchases on the move, thus increasing your product's exposure and your Magento online store.
This goes a long way in enhancing your brand position. The best thing is that the mobile application integrates with the existing online store so that you can manage everything from one admin panel.
Out of the Box Features
All Magento online store owners get access to technology that is very comprehensive and easy to use at the same time. Some great features offered by Magento that are worth mentioning include:
Wish lists
Multiple stores or mall feature
Compare products
Email lists
Grouped/Bundle/Digital products
Good SEO performance
CMS system for static pages
Layered or Filtered navigation
Advanced searching
These technologies come in extremely handy for a Magento developer while setting up a Magento online store. In particular, the ability to run multiple stores from a single database with different designs is fantastic.
In addition to that, Magento has a very active online community of developers and users offering solutions for Magento development Service. So, if you ever run into any problem, you are most likely to find a bunch of users who are willing to help you out.