Blog details
We are making native app development being the
base of mobile strategy today.
Let's Talk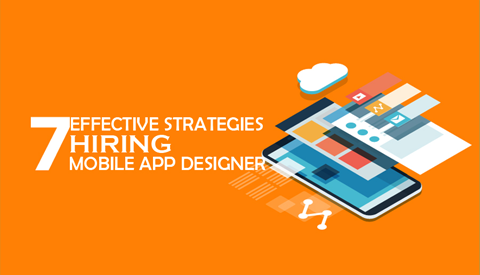 Mobile App Design | Mobile App Development
Exploring 7 effective strategies Before Hiring Mobile App Designer in 2022
Today, businesses tend to flourish through multi-featured mobile applications. These mobile apps are served as the highly utilized platforms to get in touch with an increased number of potential customers and enhance sales. Whether big corporate or small startup – with the proper application, every kind of business can enjoy numerous benefits associated with growth, marketing, and higher prospects.
A realistic mobile app developer can implement your most appealing planning in a dedicated mobile application and the added features. With countless options of available mobile app developers worldwide, picking out the most worthy mobile app designer seems difficult. With the ever-increasing number of android phone users and online shoppers, it has proved that your business can fetch maximum profits from using striking mobile applications.
Therefore, it is most important to build a smart mobile application to save hundreds of dollars. Instead of compromising on quality, find out the Top mobile app designer to add value to your mobile app development and maximize your business revenues. Take a look at the below-mentioned tips that aid you in hiring the right mobile app development company.
7 Fundamental Tips for Hiring the Impeccable Mobile App Designer
Try Out Online Surfing
There's no better hassle-free way to find the ultimate mobile app developers than searching on the web. At first, companies feel dubious about hiring offshore mobile app designers due to their unknown personalities. In this situation, the best way to clear out their workings is by asking them to share their previous projects through an online network.
It is best to list out the top-most Mobile app designer in India, research enough online, examine carefully, and then make final decisions. Most times, it has been seen that businesses take reckless decisions and then suddenly finalize one mobile app designer from the lot. Later they regret their decision when they find the final results are not as favorable as they thought.
2. Look For a Reliable Mobile App Developer
You have to pick a mobile app developer ready to provide you with long-term services. A sound developer not only supports you with the development process but provides you with constant input to have extraordinary business growth. Since they have already worked with many clients, they know which apps will work best for you. It is no surprise that mobile app development consists of plenty of stages. Even after the release of the final app, businesses require constant support from the development team to enhance the app.
You can get several feedback from the users. Thus it can force you to do further actions like cutting down unnecessary functionalities, adding new attributes, etc. For these, you need the active support of a dedicated mobile app designer that will ensure you a guaranteed long-term relationship.
3. Keep an Eye on the Portfolios
One of the foremost requirements is to hire the best quality mobile app designer. Never select a company or an individual developer randomly to make your project completed. Keep in mind that an excellent, industry-experienced mobile app designer possesses the necessary UI/UX skills to deliver you incredible, user-friendly apps.
These developers will be more than excited to showcase their previously designed mobile applications to you. Once you get the available list of mobile apps, you will understand your requirements, thus making Google the best development team. Check the developer's work profile, expertise areas, and skills to understand their perspectives.
4. Check Some of Their References From Previous Clients
In searching for the right mobile app developer, references work the best. If your selected Mobile app designer gives consent to providing the client's contacts to help you get the actual feedback, then you can blindly trust the company.
These reference links help you know the types of work the developer has participated in and the brand names he has worked with. Cross verification matters a lot in getting the actual review of the developers.
Therefore, you must ensure following the assessment to bring out the fake reviews and get the contacts of the transparent profiles. Knowing the records of the development companies and investigating helps you get an idea about the resources the development team allocates for working on the projects. This will also let you know the company's intention and expertise in working with you.
5. Ensure Constant Communication with the Developer
When you decide to hire a Dedicated App development service from a different country except for your nation, communication plays the most vital role. A healthy business communication establishes a good relationship with your developer and helps you understand how comfortable you are with your appointed development team.
Make sure your developer understands your language and ensures seamless communication to assist you even in emergencies. To prevent the barrier of different time zones, fix a time when you can relaxingly discuss the development reports. An experienced and well-deserved developer will maintain with you uninterrupted follow-ups through different communication tools like Face Time, email, Skype, Messenger, etc.
6. Ensure Optimum Confidentiality from the Developer
In hiring the greatest mobile app developers, security becomes a crucial issue. Regardless of how reputed your selected development team is, they guarantee you with utmost privacy measurements so that any information about your app gets leaked. Sign the Non-Disclosure Agreement between your developer and you to achieve this process. Thus, you can be assured of maintaining the confidentiality of your app.
7. Concentrate on the Designing of the Mobile Application
Since mobile applications serve as the optimum marketing strategy, you must focus on the apps' presence. Don't select any developers solely considering their experience in mobile app development, but their final layout of the apps also bears equal importance. If you influence many users towards your mobile apps, make the first impression the best one.
This can be achieved by getting your mobile application designed by a creative team of developers. Please communicate with your development team to make them understand your preferences and request them to reflect on you're planning through the mobile app designs.
Summing up
Whenever you head on hiring a mobile app developer, ensure you consider the above points to make necessary advancements to your online business. Developing an eye-catching mobile app with the support of a Mobile app designer in Mumbai can help you come out with an extraordinary business model that makes your customers amazed.
Don't ignore the points of reviewing your selected developing company to guarantee your mobile application's success.
A well-known mobile app designer will have enough technical knowledge to get you the most rewarding mobile application and represent it before your potential customers. It is recommended to invest enough time before finalizing hiring a particular mobile app developing company. Keep focusing on the prime aspects to boost your business and impose the important decision of developing a highly-interactive mobile application on your appointed developer to experience ultimate business success.